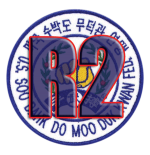 From the Regional Examiners, an open invitation to train "where the art is"… Sunday November 2nd, at Springfield HQ Dojang (Hwang's Karate, Del Sordo Sa Bom Nim hosting) from 10 a.m – 1 p.m.
Come train and prepare for the upcoming Ko Dan Ja Shim Sa, if you are attending, come train if you are a Sam Dan who is attending the KDJSS, come train if you are a Sam Dan who will be going next year to the KDJSS.
Regional Examiner and Candidate for testing this year, Cort Stinehour Sa Bom Nim will be conducting the session, we start at 10 a.m. sharp (be on the dojang deck before 10 a.m.) and the session will stop at 1 p.m.
Open to all Region 2 KDJ and Sam Dans who want to be …"Where the art is"…
Hope to see you there.
If you have any questions, please email me at rob13927@gmail.com
In Moo Do,
Roberto Bonefont, Sr.

Region 2
Regional Examiners,
Denise Mullin, SBN and Cort Stinehour SBN