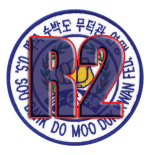 Upcoming R2 Events:
Saturday, August 29th
– Sam Dan and KDJ Training.  Due to the cancellation of the original location, the Ellenville Moo Duk Kwan Academy will be hosting this event.  (address:  170 Canal Street, Ellenville, NY.  Time:  
11:00 a.m. to 1:00 p.m.
)
Saturday, September 26th
Clinics, Moment with the Masters East- @Headquarters, Springfield, NJ.  Additional Information is now posted on the region 2 website and region 2 facebook site.
In lieu of the Dan training session for September, R2 will be supporting these clinics.
Saturday, October 17th
, R2 Dan Shim Sa near Pennsville, NJ (more information will be sent out with the Dan Shim Sa paperwork.) Dan training will occur at the Shim Sa.
October 23rd – November 1st
– Korean KDJSS; World Symposium and the 70th Anniversary of the Moo Duk Kwan.
November 13 – 20th
– KDJSS in Ramona, CA (
No
R2 Dan/KDJ training sessions this month)
Sunday, December 13th
– R2 Dan Training Session – Location TBD –  If your instructor would like to host this event, please contact Cort Stinehour SBN.
In Moo Do,
Regional Examiners for Region 2