Moment with the Masters EAST September 26th, HQ Springfield, NJ

5 great MASTERS - ONE DAY - Region 1 and Region 2, Invited to attend.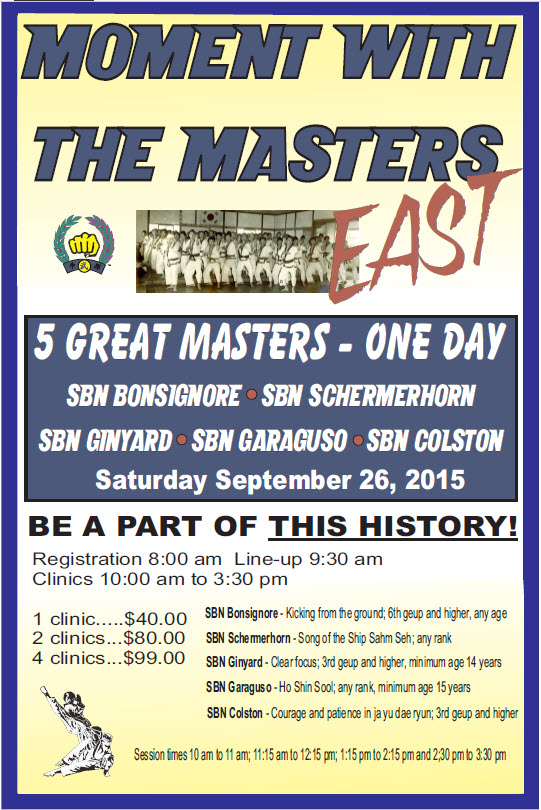 Reading Time:
2
minutes
5 Great MASTERS – ONE DAY
SBN BONSIGNORE
SBN SCHERMERHORN
SBN GINYARD
SBN GARAGUSO
SBN COLSTON
Saturday September 26, 2015 – Pre Registration is available on this Google Form, please try to pre register so we can arrange the clinics accordingly.  Please… checks/money orders payable to:
"U.S. Soo Bahk Do Moo Duk Kwan Federation"
United States Soo Bahk Do Moo Duk Kwan Federation®
20 Millburn Ave
Floor 2
Springfield, NJ 07081
DEADLINE FOR PRE REGISTRATION IS SEPTEMBER 19, 2015
You will be able to pay and/or register the morning of the clinics!  But please pre-register online. Thank you.
Registration 8:00 am Line-up 9:30 am Clinics 10:00 am to 3:30 pm
1 clinic…..$40.00
2 clinics…$80.00
4 clinics…$99.00
Clinics are listed as sessions below, only for logistical reasons, only four (4) sessions will run, subject to change based on last minute registrations.  So please, pre-register!!!
Session 1: SBN Bonsignore – Kicking from the ground; 6th geup and higher, any age
Session 2: SBN Schermerhorn – Song of the Ship Sahm Seh; any rank
Session 3: SBN Ginyard – Clear focus; 3rd geup and higher, minimum age 14 years
Session 4: SBN Garaguso – Ho Shin Sool; any rank, minimum age 15 years
Session 5: SBN Colston – Courage and patience in ja yu dae ryun; 3rd geup and higher
Session times 10 am to 11 am; 11:15 am to 12:15 pm; 1:15 pm to 2:15 pm and 2;30 pm to 3:30 pm