Moment with the Masters EAST September 26th, HQ Springfield, NJ

5 great MASTERS - ONE DAY - Region 1 and Region 2, Invited to attend.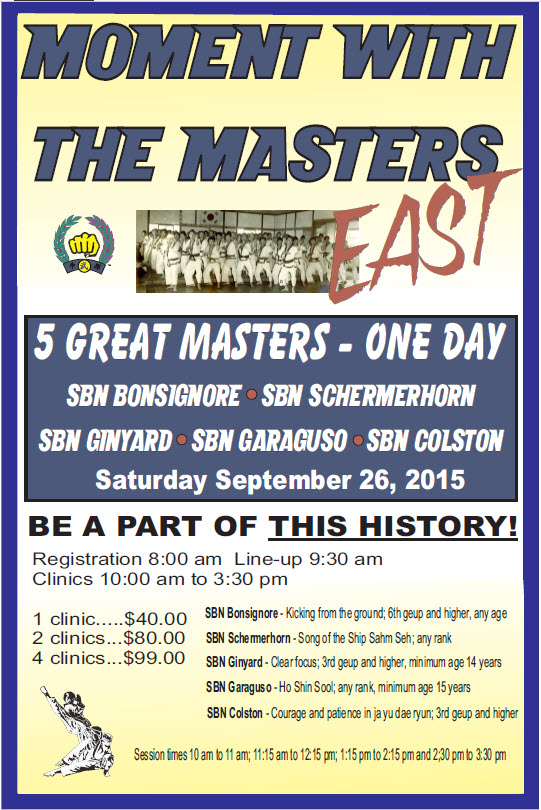 Reading Time:
2
minutes
5 Great MASTERS – ONE DAY
SBN BONSIGNORE
SBN SCHERMERHORN
SBN GINYARD
SBN GARAGUSO
SBN COLSTON
Saturday September 26, 2015 – Pre Registration is available on this Google Form, please try to pre register so we can arrange the clinics accordingly.  Please… checks/money orders payable to:
"U.S. Soo Bahk Do Moo Duk Kwan Federation"
United States Soo Bahk Do Moo Duk Kwan Federation®
20 Millburn Ave
Floor 2
Springfield, NJ 07081
DEADLINE FOR PRE REGISTRATION IS SEPTEMBER 19, 2015
You will be able to pay and/or register the morning of the clinics!  But please pre-register online. Thank you.
Registration 8:00 am Line-up 9:30 am Clinics 10:00 am to 3:30 pm
1 clinic…..$40.00
2 clinics…$80.00
4 clinics…$99.00
Clinics are listed as sessions below, only for logistical reasons, only four (4) sessions will run, subject to change based on last minute registrations.  So please, pre-register!!!
Session 1: SBN Bonsignore – Kicking from the ground; 6th geup and higher, any age
Session 2: SBN Schermerhorn – Song of the Ship Sahm Seh; any rank
Session 3: SBN Ginyard – Clear focus; 3rd geup and higher, minimum age 14 years
Session 4: SBN Garaguso – Ho Shin Sool; any rank, minimum age 15 years
Session 5: SBN Colston – Courage and patience in ja yu dae ryun; 3rd geup and higher
Session times 10 am to 11 am; 11:15 am to 12:15 pm; 1:15 pm to 2:15 pm and 2;30 pm to 3:30 pm

Began training in 1967 at the age of 16, as a member of the Brooklyn Highland Park Y.M.C.A., under the guidance and training of Mr. Mike Masley, Jr., Dan Bon 10180, and tested for Cho Dan on June 18, 1969.  Now a certified 4th Dan Ko Dan Ja, and was issued his original testing date Dan Bon 13927 by Kwan Jang Nim H.C. Hwang based on his petition to honor that date and evidence showing Mr. Mike Masley and his instructors,  Mr. Robert Sohn, Dan Bon 6037 and Mr. Vincent Nunno, Dan Bon 7291, were legitimate representatives of the Founder, and Kwan Jang Nim Hwang Kee and the Korean Soo Bahk Do Moo Duk Kwan Association in 1969.

Latest posts by Roberto Bonefont (see all)